Spaghetti squash is my favorite of all the squashes. I think I like it so much because of its resemblance to pasta. We all know I am a
FAN
. While spaghetti squash doesn't exactly taste like pasta, its texture is pretty darn close.
If you're getting tired of plain old noodles and are looking for something a bit different, go grab yourself a spaghetti squash and get cookin'!
Daylight savings makes me sad. I need natural light. This picture is lame.
Begin by preheating your oven to 350 degrees.
Next is the daunting part. Cutting this beast isn't really very easy but I promise it is worth it. It usually requires a bit of cursing on my part but once it's open, it's all good. I start by getting a sharp knife and cutting off the ends, as seen in the picture below. Please note that this is not my picture and the source is listed. I thought it would be better to find an image from the internet instead of attempting to cut and photograph at the same time. Fingers may have been lost. I would like to keep mine, thank you.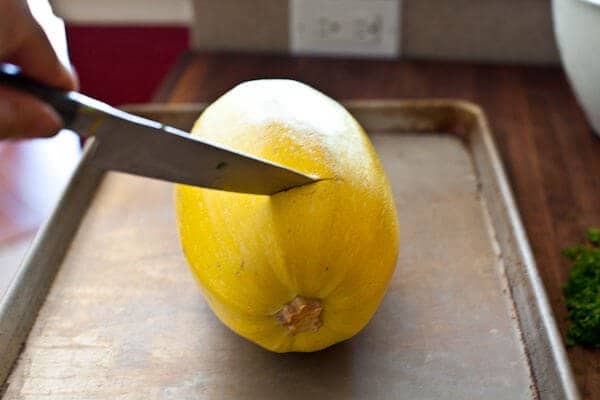 Once the ends are removed, I then slice the squash in half, lengthwise.
This picture is lame too.
The next step is to to scoop out all those seeds and discard. With the seeds removed, place the squash face down into the pan. I like to pour about a half an inch of chicken broth onto the pan before setting the squash down. This provides both moisture and flavor. You can, however, just use water. Whatever floats your boat. Bake for about 45 minutes.
Once cooked, you want to scrape out the insides using a fork. This is where it starts to resemble spaghetti. Hooray! At this point, you can top it or mix it with whatever suits your fancy! Marinara, pesto, Earth Balance, seasonings, etc. On this particular night, I went with the old standby: hummus! I also added a little pepper and my other standby, nutritional yeast. The hummus makes it a nice, creamy dish. Very delicious indeed.
Fun Fact: A one cup serving of pasta is about 220 calories while our friend the spaghetti squash, for the same one cup serving, is about 40 calories. Crazy huh?
This is easy. There aren't 59 different ingredients. It's good for you. It's different. What's not to like? Won't you give it a try?
Be Well,
Ashleigh
If you enjoy reading my ramblings, please consider subscribing to my blog! It would be greatly appreciated!
<---------- click this dude above, on the right hand side of the blog.